RR, 2011
16mm film
3:23 minutes, silent
RR
presents a 16mm film portrait of the giant, cast-iron stove on the third floor of 381 Lafayette Street, Robert Rauschenberg's former home and studio.
In 1880 The Mission of the Immaculate Virgin founded a "home for friendless children" in the building that Rauschenberg would purchase 85 years later. The building included an antique iron stove that the convent used to cook meals for the orphanage.
The kitchen then became a site for gatherings and parties throughout Rauschenberg's many years in the building.
Through extreme close-ups in 16mm film,
RR
attempts to trace the auratic potential of the Vulcan stove, from its time serving homeless children through Rauschenberg's years and its still-working status in the kitchen of the current location for the Robert Rauschenberg Foundation.
The renovated convent sits to the left of the hulking St. Joseph's Home.
King's Handbook of New York City 1892 (copyright expired)
Rauschenberg in the kitchen of his Lafayette Street home and studio, with the tall Vulcan stove centered between the two windows, New York, 1968. Photo: Shunk-Kender © J. Paul Getty Trust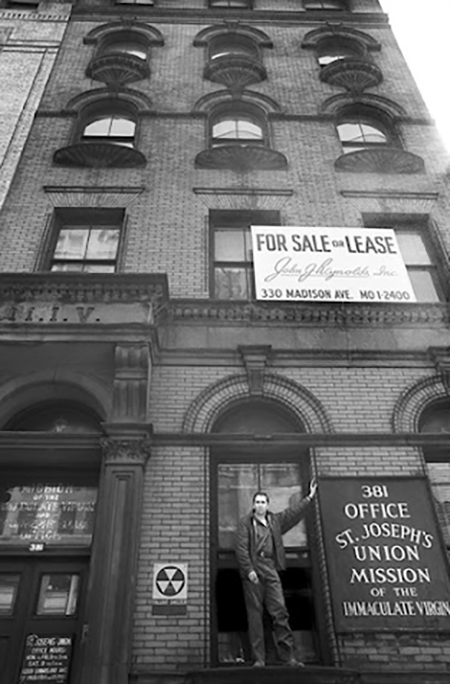 Robert Rauschenberg posed outside the building in 1965.